Outsource payroll processing services to us at

 low price
At AccountsAid, we offer high quality and complete payroll processing services outsourcing to our UK clients for competitive rate and simple fee structure. Our services range from routine payroll accounting, tax administration and reporting services. Our clients are taking advantage of our expertise and lighten routine administrative tasks by working together with us.
Reduce costs and increase profits – outsourcing payroll processing services to AccountsAid will reduce operating costs by up to 65%.
Our extensive service gives you access to a convenient and reliable payroll process.
We are up to date with HMRC and other regulators new rules such as Auto enrolment and minimum national wages. 
Payroll processing services from AccountsAid
We offer a complete range of payroll processing services. Some are listed below:
Processing of wages information
Payroll routine reports
Payroll periodic reports
Time and attendance system
Payslips preparation and emailing
Employee tax deductions
RTI (FPS, EPS) submission to HMRC
Auto enrolment maintaining
Set up of pension scheme
Outsourcing payroll processing services
Payroll processing is a routine work and missing deadline is a serious issue. By outsourcing the process allows you to concentrate on growing your client base. Save cost, focus on core tasks and achieve growth without restriction of human resource and infrastructure.
Payroll accounting burden can go up in a specific period of time. Outsourcing the process to AccountsAid gives you higher adaptability with staffing. The time zone benefit also plays a crucial role during peak season. To keep cost low we process part of payroll work in India and Nepal. The team in India and Nepal continue working while the UK team is asleep, keeping the process going for twenty four hours.
Why outsource payroll processing services to AccountsAid?
AccountsAid possesses core competence in payroll processing. Our team has several years of experience providing high quality payroll services to UK clients.
AccountsAid can manage your payroll processing services and also help you with other administrative routine functions such time and attendance. Outsource payroll accounting services to AccountsAid and take advantage of high-quality services at low price.
Each client may have different needs and to meet this, we design customized payroll processing solutions.
AccountsAid provides a complete payroll service – Routine payroll processing, payroll related tax administration and reporting regularly and periodically. We also email to each employee so that your valuable time will be saved for more important business areas.
With our vast range of experience and up to date knowledge, you can be assured that your payroll and tax filing will be calculated correctly and on time.
We are very sensitive towards data protection and security and assure that your data is safe with us.
Outsource Payroll Services to AccountsAid and benefit from our expert services.
If you have a specific payroll accounting need, we can probably customize it. Please just ask.
Benefits of outsourcing payroll processing services
Reduce penalties to zero
Get expertise service from us
Be sure that the updated tax tables are used
Get rid of the hassle of handling payroll in-house and concentrate on your core activities.
Payroll processing software used at AccountsAid
The list below are some of software we use for payroll accounting at AccountsAid to make sure that we provide our payroll processing customers with efficient and effective services:
Keytime payroll
BrightPay payroll
Sage payroll
IRIS payroll
Moneysoft payroll
Quickbooks payroll and more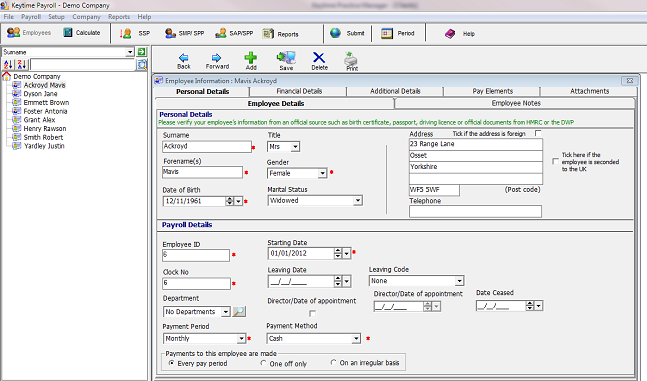 Please check our other outsourcing services such as bookkeeping, accounts production, tax  etc as well.
If you are not sure about or did not find exact information on payroll processing services what you were looking for, please drop a line using our 'Getting started' form. We will get back to you shortly after your request.
To start outsourcing payroll processing service to us, no need to wait new tax year. You can start anytime. Come and discuss with us. Click 'Getting started' button below to contact us and get prompt reply.