Welcome to AccountsAid Accounting Outsourcing Services
We provide reliable accounting outsourcing services such as  Bookkeeping, Accounts production, payroll and tax related services for UK Accounting, Chartered Accountants and Chartered Certified Accountants, CPA firms from low cost regions India and Nepal.
At AccountsAid Accounting Outsourcing, each team has dedicated manager with proper training by someone studied, trained and worked in the UK with professional ability who understands well the need of practice firm.
We offer flexible services varying from piece meal to complete back office outsourcing for accountants firms.
Our services are Annual accounts, Bookkeeping, Management accounts, Taxation(Individual and company), Payroll, VAT returns, company secretarial, Filing to HMRC/CH etc.
We are sensitive towards handling third party information and aware of data protection and confidentiality.
We can adapt different working arrangement according to your needs and organizational structure.
We are proficient and well-trained at using the mostly used software available in the practice market including online software version from different vendors.
Outsourced accounting has several benefits. Please click on the link or the image below to read in detail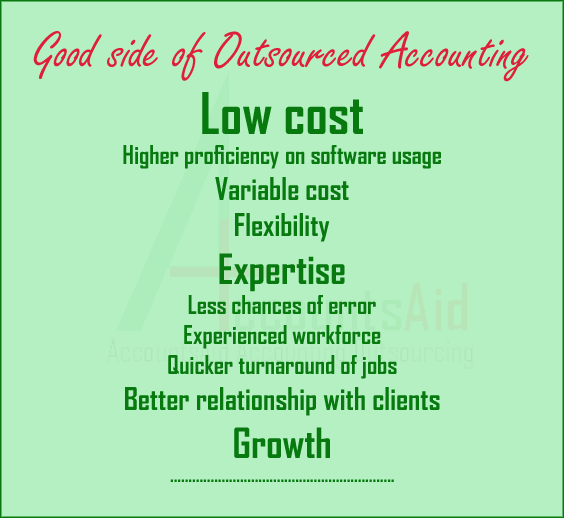 WHY ACCOUNTSAID
Profitability/Sustainability
Reduce cost/overhead/investment by up to 65% and increase efficiency, competitiveness, quality and customer satisfaction with AccountsAid's accountancy outsourcing services.
Professionalism/Competence
AccountsAid is run by professionals experienced in accounting services outsourcing for several years after having trained and worked in the UK.
Data protection/Confidentiality
Our colleagues are fully aware of data protection act in the UK, EU GDPR and no disclosure policy.
Specialization in UK practice
We are specialized in UK accounting practice to deliver excellent service with keen in skill and up to date knowledge.
Bound by ethics
AccountsAid's key players are members of Recognized Supervisory Body (RSB) who you can trust to handle sensitive information.
Knowledge and experience of wide range of software
Colleagues at AccountsAid Accounting Outsourcing Services have ability to work on all mostly used bookkeeping, accounts production, tax etc software.
Simple and competitive pricing structure
AccountsAid keeps pricing structure as simple as possible with Value For Money (VFM) concept for all outsourced accounting services. Outsource accounting services to us for low price and simplicity of cost recording. We also work for fixed fee after we agree with the volume of accounting outsourcing works
Please click 'Get started' button below to contact us for prompt reply.