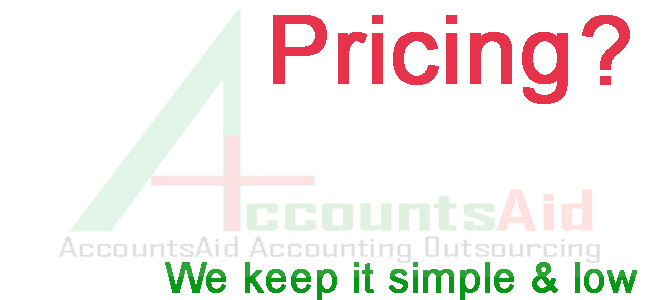 AccountsAid's Accounting Outsourcing Pricing Structure:
AccountsAid provides Accounting, taxation, bookkeeping, payroll etc  services at highly competitive rates. We offer the following pricing options for our services:
Complete back office support: We can act as back office for certain number of clients or all of your clients in fixed monthly fee.
Fixed percentage of fees: We can provide complete back office service for all of your clients in fixed percentage of fees that you charge to clients.
Hourly Rates: This model is 'fit for all' and flexible without any burden of fixed cost at the time of less volume.
Full-time Employees: A dedicated employee will be assigned to your project full-time (160 hours per month) and you will be billed on a monthly basis. We also offer the flexibility of hiring a half resource (80 hours per month) if the volumes are not high.
Project pricing: We can provide you cost per project or unit after assessing your needs.
Per Tax return: We can provide you a competitive per tax return pricing.
Many more flexible options to meet your requirements.
Our hourly rate starts as low as £5 per hour.
Payroll fee starts as low as £1.50 per payslip basis. No fixed annual fee for P60, P45 etc. All included in payslip basis. (£5 minimum per payroll run for employers with less than 4 employees). This means if you have 5 employees and monthly pay frequency, you will  pay only £7.50 per month in total for payroll processing.
Please check our outsourcing services as well.
Click button below to contact us and get prompt reply: