Outsourced accounting Benefits are not just limited to boosting profit by saving cost but it also opens door to more opportunities to UK firm of accountants. A competent accounting outsourcing firm based in low cost region can work as a strategic partners which enables to achieve strategic goals such as growth without restriction of investment in infrastructure and skilled manpower.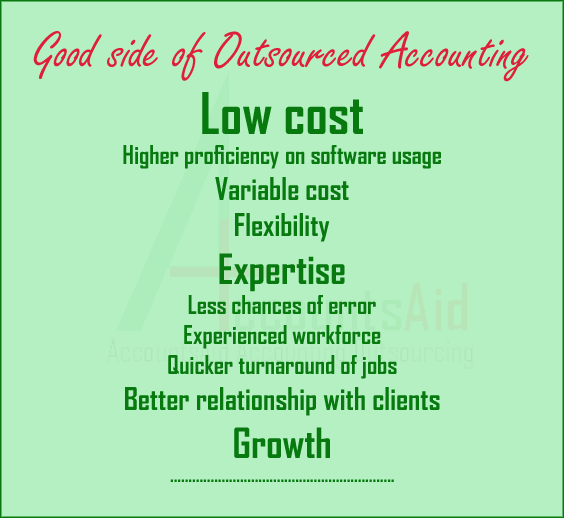 We have tried to list few of the outsourced accounting benefits that our firms of accountants clients are enjoying
Low cost: Low cost is one of the most obvious outsourced accounting benefits. Based on our experiences firm of accountants can boost their profit by at least 50% by an outsourcing arrangement with a competent outsourcing firm in a low cost region. Normally the outsourcing fee is around 20% of total fee that accountants firm charges to their clients. In this fee outsourcing firm can provide complete back office. Accountants firm just deals with clients and provides the information to outsourcing firm.
Higher proficiency on software usage: Outsourcing firm works for several firms of accountants. They use different software for maintaining bookkeeping, processing accounts, tax and payroll. From this experience outsourcing firm develop better proficiency over usage of software than that one firm of accountants has. In case of new software outsourcing firm can quickly adapt based on the knowledge of several softwares. Softwares for same purpose have similarities in their function and usage.
Flexibility: Accountants firm can use outsourcing services when required. In peak season, can be asked to complete more jobs and less in quiet season.
Variable cost: No fixed salary for staffs! No holiday pay, bonus pay etc! No cost for idle time! Payments can be made only for the work done which directly corresponds with the income generated from clients.
Expertise: The volume of work in outsourcing firm is much larger than that of one firm of accountants usually has as it works for several firm of accountants.  Different accountants firm may have different approach of maintaining, processing and finalizing bookkeeping, accounts,  tax, payroll etc. Many are very keen to the quality. From this experiences, outsourcing firm must have learnt variety of ways that accounts can be processed and finalized to provide service in desired quality and format. Thus, the firm of accountants can benefit from the expertise of outsourcing firm to be competitive in changing environment.
Experienced workforce: Without investment in training and hiring firm of accountant can get accounting, bookkeeping, tax payroll etc done by experienced processor.
Quicker turnaround of jobs: Due to specialized, efficient and larger number of workforce in outsourcing firm the quicker turnaround of jobs is possible. Turnaround time is important specially in peak season and for the job with short deadline. This may also be important for realizing income earlier from clients.
Less chances of error: An well managed accounting outsourcing firm appoints a team manager who is responsible for providing proper direction to her/his team members who process the assignment. S/he is also responsible for reviewing the work prepared by experienced team members. This minimizes the chances of error. The work will be further reviewed by at least a partner in firm of accountants which leaves even lesser chances of error on the project completed.
Better relationship with clients: Communication with clients is what should not be done in a hurry. Taking few minute extra while writing email to client is a wise idea. If you could meet them sometimes in person for few minute for tea/coffee, it definitely pays back.
By outsourcing accounting, partners and managers in accountants firm are able to find time to deal with issue properly that their clients raise. Experience suggests if you have good relationship with clients, they even can compromise at the time of conflicts related to their accounts. Trustworthy relationship is important.
Growth: Every business wishes or have to grow to meet the demand of expectation and fit in an ever changing business environment. Firm of accountants which outsource its activities to low cost region have competitive advantage over other players in same market. Accountants firm can offer same service in lower price when market becomes price sensitive. In this way,  growth of practice firm with outsourcing firm is faster.
In other hand, without restriction of infrastructure and intellectual property, accountants firm can achieve growth by partnering with a reliable accounting outsourcing firm. Again, outsourced accounting allows you to think about future business development,  marketing strategy and implementation. This ultimately contributes in growth.
Finally,
The above benefits can only be achieved if outsourcing firm is capable of providing adequate services with required standard of quality to UK firm of accountants and the firm of accountants is ready to change the traditional structure of their organization. Both aspects are equally important. Outsourcing firm should be able to understand the pressure and environment that firm of accountants has. Outsourcing firm must be up to date with Tax rules and accounting principles as well. Similarly, the accountants firm may need to be able to flow data electronically and try to achieve the goal of paperless office. Investment in high speed scanner could pay back well.
Please visit our Outsourcing services page.
Click on Get started if you have any question or drop a comment below